We needed a slower start on Thursday and didn't get going until late morning. Anna has been growing like a mushroom since we left NZ and her running shoes are now too small. No signs of any sports shops in our tiny village, so we were off to the nearest large town of Bad Ischl in search of a new pair.
We got distracted on the way by the views near Hallstatt and our first Austrian cache, but eventually made it to Bad Ischl. We finally tracked down a sports shop with the help of the information office, only to find the shop was at lunch. Most of the shops shut for a two to three hour lunch break but don't stay open significantly later than ours. Supermarkets are only open until around 7pm at the latest and not at all on Sunday. It might be different in the big cities, but not around this area. It takes a bit of getting used to, but we rather like that the Austrians know how to relax and have a life!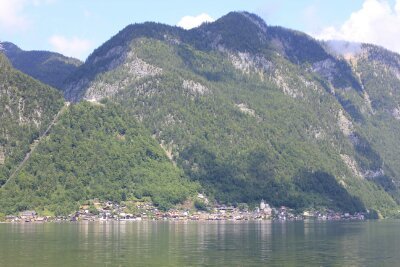 We passed the time while the shops were at lunch by eating lunch ourselves. It was time to sample takeaways Austrian style at the Wurstl and Pommes stand. Andy branched out and had a mystery burger. It wasn't a health food lunch in any way – the Wurstl was slit length ways at the ends then deep fried, making a sausage that looked like a jester hat at each end. The Wurstl lady spoke no English which made it more fun – mostly when you attempt to speak German, the Austrians reply in fluent English.
After the shops were back from lunch, we succeeded in finding Anna some new shoes. Bad Ischl is a lovely spa town, a little like a mini Salzburg without the crowds. It was nice to have a wander and go into normal Austrian shops.
We were going to head back to our village but then realised we were very close to St Wolfgang, which I had read was another nice town. Nav-Madame took us the back way on narrow roads past gorgeous villages. A lot of the villages still have maypoles up from the celebrations on 1 May. This is a very traditional area and it is not unusual to see people in traditional dress.
St Wolfgang was a nice village on the edge of a lake, but very touristy and popular with the Japanese. We had a nice wander and the kids loved the souvenir shops with their cuckoo clocks. The kids were keen to check on the standard of the icecream in Austria, but we opted for a visit to the Konditorei instead. The cakes were delicious (strawberry and banana chocolate!) and the kids gave the ice cream the thumbs up too. There have been lots of comments on our blogs about our level of ice cream consumption, but we need it to fuel the many miles we walk every day!
On the way back to our village we found a great playground for the kids. It had been a lovely day doing nothing much in particular, just exploring the area and seeing how the locals live.