Wednesday was the day we were booked to visit the Leaning Tower of Pisa. We had booked on line as tickets are limited to 40 people each half hour and it can be very difficult to get tickets on the day. I had booked for 11am, not realising that we would be on such a late sleeping cycle. It was quite a shock to be woken by an alarm clock!
Andy took off first to collect Pierre from the car park and come back to pick us up. We were relieved that Pierre was still there and didn't have a ticket attached to his window. It was a 45 minute drive to Pisa, and Nav-Madame got us easily to a car park nearby the Tower. It was easier than we expected as the tower is on the north western edge of the city.
The tower is actually the bell tower for the cathedral next door and there are a number of other historical buildings on the same square. There were mobs of people at the tower, but the area is large enough that it didn't feel too crowded. It was quite funny seeing all these people standing with their arms in the air for the classic photo shot, but of course we did the same!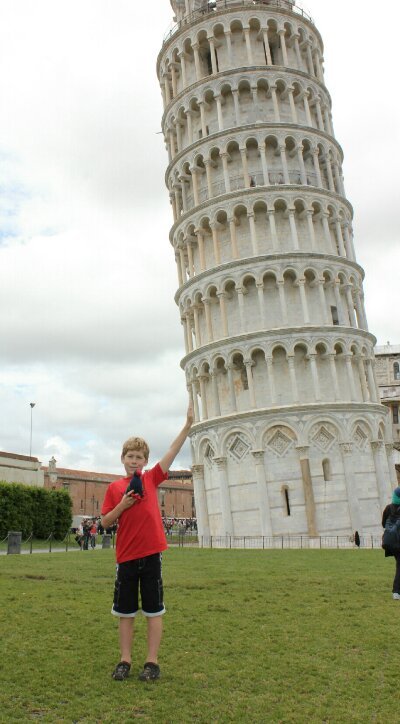 Last time we visited Pisa, it was not possible to climb the tower. We were quite surprised how much you noticed the lean when climbing to the top. The steps spiralled around so sometimes it was easy to climb, sometimes it felt much steeper and other times you were pushed into the walls – all depending on which side of the tower you were on. The views from the top were lovely, much better than we had expected. We all felt quite wobbly when we got back to terra firma after half an hour on a lean!
There were lots of other places near Pisa we could have visited, but we decided to come back to Lerici for a relaxing afternoon. When we returned to the car park, there were lots of official car park attendants there (officials always hang round in groups here!). One of them spoke some English so we quizzed him about the car park charges. Turned out we were supposed to pay, so we had been lucky for two nights. We think we got away with it as we arrived in the evening and were out by late morning, before the officials were out of bed!
After consuming our daily dose of gelato in Piazza Garibaldi (at Andrea's recommended gelateria, and definitely the best yet), we went to the small sandy coves we can see from our house. They are reached by going down to the Piazza and walking through a long tunnel that goes right under Lerici – only in Italy!
The water was not exactly tropical (it is easy to forget it is only May as the weather is warm) but we all enjoyed refreshing swims in the Med. Matt had a great time sand building until three local dogs arrived and took over the beach. They were very entertaining, but we moved back to the first cove for a more peaceful time.
It was a beautiful evening so we had dinner at an outside restaurant on Piazza Garibaldi. It was our best meal yet, with delicious food and a beautiful view. Lerici is set on the "Gulf of Poets" (named after a number of famous poets like Byron and Shelley settled here) and has the most sheltered position on the Gulf. After the meal we took a stroll along the waterfront to enjoy the sunset and let the kids have a run at the local playground.