There was no way we were eating McDonalds for breakfast a third time, so we needed a new plan. We had a mid-afternoon flight, so decided a late breakfast and late lunch would work well. We'd grabbed a few snacks from the supermarket to keep us going while we packed our bags for the last time, then headed off for our last morning of sightseeing.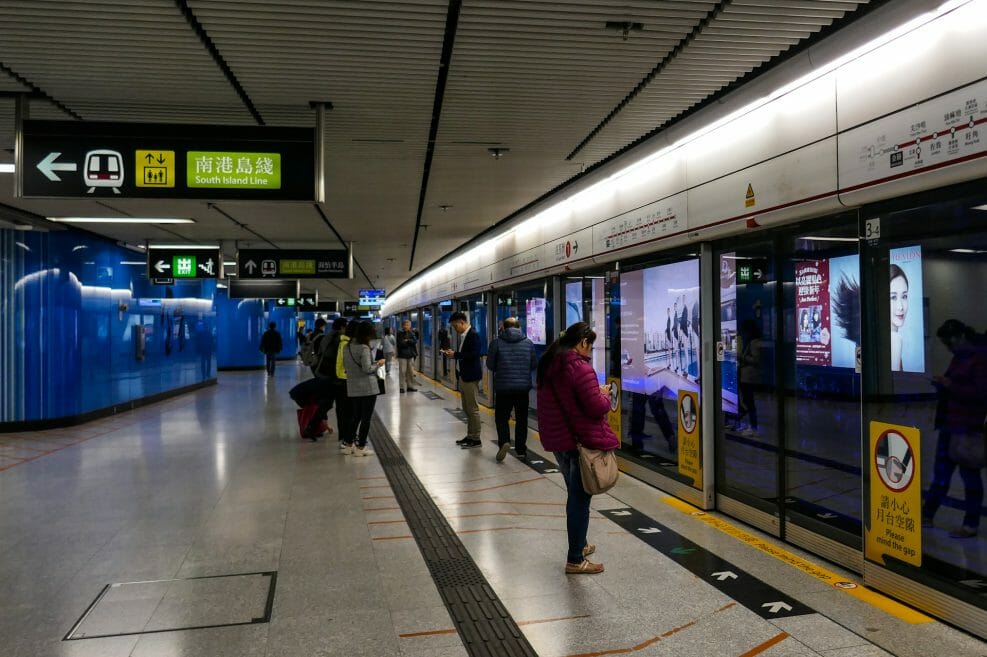 Anna was keen to track down some turtles, and the rest of us were happy to join in. Andy had stories of turtles from his first visit to Hong Kong about 30 years ago, but couldn't remember where he had seen them. Hong Kong Park seemed our best bet, a green space sandwiched in the middle of the main Hong Kong Business District. After one stop on the MRT and a quick walk, we were at the park. It wasn't huge, but was built up a hill and beautifully landscaped with ponds, waterfalls, rocks and tropical plants. It also had loads of the cutest little turtles to keep us entertained. They are such funny creatures, so elegant in the water but clumsy on land. We watched them for ages, then left the park in search of our late breakfast.
We ended up at Fairwood, a Hong Kong fast food chain. It wasn't McDonalds, although there may have been some similarities. It offered Western and Chinese food. I was the only one who opted for a Chinese dish and I think I got the best deal. It was slightly strange to have two frankfurters in my noodle soup along with the pork and veggies, but it was pretty tasty. The restaurant overlooked the motorway and it was fun watching the traffic. I love all the transport options in Hong Kong.
Even though it's over 20 years since Hong Kong was given back to the Chinese, the British influence is still quite strong. The buses look like red London double deckers, except they are covered in Chinese writing. Every taxi is a red Toyota Comfort which runs on LPG. Sadly we ran out of time to ride the ding-ding trams, that will have to wait for next time.
We were back at the hotel in time for the midday checkout. We had planned to taxi to the Airport Express Station and then catch the Airport Train, but the taxi driver was adamant he could take us all the way to the airport for less total cost. He had a decent amount of English and had learnt the phrase "Win-Win". He was also quite paranoid that we would think he wasn't honest. We decided he was a decent guy and quite liked the idea of not having to lug our bags onto another train, so let him drive us all the way. We saw more by road as we weren't in many tunnels, and learnt a lot from the taxi driver about life in Hong Kong when you're not rich. He was not a fan of the Chinese Government and preferred Hong Kong when the British ruled. The taxi driver was as good as his word and we did save money.
We checked in for the last time on this trip, then settled down to have a late lunch and wait for our flight. Today's sector was with Cathay Pacific on an A350. It was a funny flight time as we lost our night, but couldn't sleep. We had a screaming toddler nearby and a man in front who sounded like he should have been in hospital not on a plane. We arrived in Auckland at 7:20 and then had to face the nightmare of Auckland Airport. It took nearly two hours to escape. Baggage claim was painfully slow and by the time we got our bags, we were at the back of a huge line at Biosecurity. They are hopelessly understaffed and totally disorganised. After more than an hour in the queue we finally made it to the counter. After reassuring them we weren't smuggling in any Chinese food or fruit, our bags were x-rayed. Just to add to the pain, we then got "specially selected" to assist with some Beagle dog training. It didn't take too long and the Beagle was cute, but we really weren't in the mood for any more delays.
The only upside was that we had been in the airport so long that the rush-hour was over and the taxi ride home was reasonably quick. We were met by a very confused and grumpy cat. Initially she wanted nothing to do with us, but by the end of the day we were forgiven and she wouldn't let us out of her sight. We allowed ourselves to sleep for two hours as soon as we got home, then got on with the dreaded tasks of unpacking and mounds of washing. It will be lovely to see everyone again, but I would happily still be travelling!