So here we are back in New Zealand, reflecting on our hectic seven weeks in Europe. Several people have asked if I'm going to write one final blog, and there probably should be some sort of conclusion. It's taken a while as things didn't quite work out as planned on our return.
Winter would not have been our first choice of season to visit Europe, but it was the only option we had for a decent length family trip. Most people thought we were mad, although a couple of people reassured us that winter was the best time in Europe. I've come to the conclusion that Europe in any season would be amazing. Winter was cold and dark, but it was also pretty magical. Europeans do winter well, really well. Scandinavians have a special untranslatable word to describe the cozy vibe of winter in their countries. In Danish it's "Hygge", in Norweigan it's "Koselig". It's been described as "a sense of intimacy, togetherness and inner warmth, a world lit by candles and snuggled under blankets". We felt this vibe all over Europe, but especially in Scandinavia and Slovenia, and it added something really special to the experience.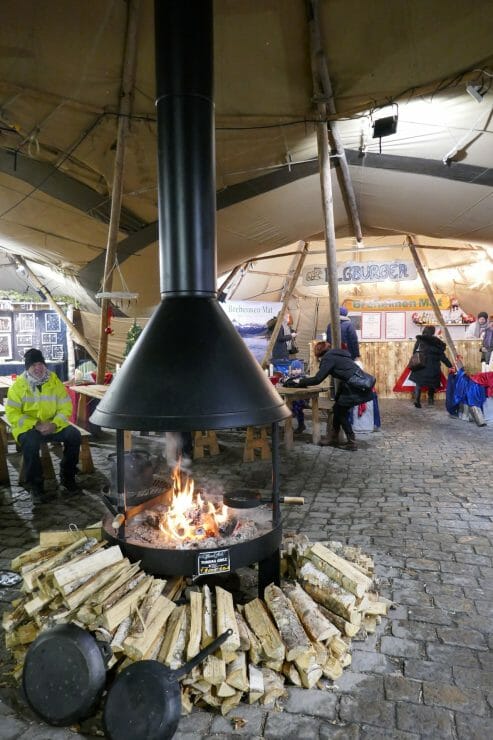 We were incredibly lucky with the weather. Our wettest day was in the desert, the first day in Los Angeles. That was also the day we felt the most cold as we were soaked to the bone and not dressed properly. Apart from our Californian drenching, we got a drizzly day in Amsterdam and a few hours of rain in Aberdeenshire. Other than that it was clouds, sun and glorious snow in Austria. We got lots of sunny days, but it was winter sun. A lot of the time it felt like a permanent state of dawn and dusk. The kids skied bluebird days in Austria with no sunscreen and didn't even get red noses. They would be crazy to do that on a New Zealand ski field. Things could have been quite different if we'd had lots of cold rainy days, but I think it would still have been good. With the weather we got, it was amazing!
We always get asked what our favourite place was, an impossible question to answer. When you visit so many diverse places, there is no way you can pick one favourite that everyone agrees on. I tried getting everyone to vote for their top five to see if we could get a consensus, but the results were quite varied. There were three places that did stand out though.
Norway A stunning country that we were lucky enough to see under blue skies with a sprinkling of snow. Along with its natural beauty, the people were lovely and the Christmas traditions were amazing. Andy missed that one, but Berlin was a highlight for him and the rest of us missed that.
Zell am See, Austria Our week in Austria could not have been more perfect. A beautiful village buried in snow, and a mixture of snow falling and bluebird days during the week. Throw in scenery to die for, perfect schnitzels and strong traditions, and you get the most amazing week.
Rome This city was such a contrast to all our other European destinations, but it was such fun. Nowhere else did we have such amazing history or so many attempts to rip us off. I hated Rome in the summer but would go back in winter anytime.
Slovenia also rated very highly, although not for Matt. The suspected bout of food poisoning he got is his most vivid memory. This tiny country is a hidden gem. Not only does it have the cutest little capital city ever, but also amazing caves and stunning scenery. Hong Kong was another popular vote. It was such a crazy contrast coming straight after Austria, and somewhere we would loved to have had more time.
The places we met up with friends and family were really special. Sharing Christmas and New Year with Jo and friends, catching up with the Johns in Aberdeenshire and hanging out with the Workmans in LA are extra special memories. Anna loved catching up with friends in Norway and Rome as well. Visiting countries overseas in always fun, but visiting countries overseas where friends and family live is even better.
My initial goal had been to do this entire trip on public transport. We almost succeeded, with the exception of a three day car hire in Scotland, necessary because the British trains needed their holidays too. There were 9 plane rides, 9 long distance train rides, 1 overnight ferry, 1 shared shuttle and countless other shorter rides by bus, metro, tram, train or Uber. The reliability of all this transport was really impressive, especially given the vast quantities of snow. The Austrians are absolute champions at keeping their country moving in the most challenging of conditions. We have no doubt that far less snow would have brought one country we visited to a complete standstill!
Coming home has been tough, we aren't used to the full heat of summer. It might be fun if we were at the beach or on the boat, but we've found it hard to sleep on the sticky nights, and my home office is like a sauna. Unfortunately Andy picked up a nasty bug on his way home, which has now been shared with the kids. I have never seen a Andy or Anna so sick, although they're recovering now. Matt is the latest victim, I'm just hoping he gets a milder dose. Once we get through all this we can enjoy summer a bit more, but for now we are all wishing we were back in Europe.
The memories we have built over seven weeks of travelling are absolutely priceless. Travelling with teenagers is even better than travelling with younger kids. Instead of trying to get them into bed so they don't get too tired, they have enough energy to keep up with their parents and more. On many occasions we were asleep before they were! Seven weeks is a long time to spend together in confined spaces. There was the odd tense moment, but they were so few and far between they don't really count. Our awesome kids were amazing travel companions and it was an absolute pleasure to go round the world with them again.
I'll finish this blog with what has become a tradition for our trips – a few awards for places that stand out, not all for good reasons. And that's a wrap until the next trip – wherever and whenever that may be.
Best accommodation – Hotel Saturnia, Venice
Best train journey – Bernina Express, Switzerland
Best breakfast – Hotel Zander K, Bergen
Favourite Disneyland Ride – Matterhorn Bobsleds
Worst airport – Auckland
Best airport – Zurich
Best mode of transport – Venice watertaxi to private hotel jetty
Worst weather – cold torrential rain in LA
Best Christmas decorations – Tivoli Gardens, Copenhagen
Best entertainment – Disneyland Fantasmic
Best celebration – Hogmanay, Edinburgh
Best Christmas Market – Oslo Vinterland
Best viewpoint – Kitzsteinhorn, Austria
Most crowded place – Hong Kong Island on a Sunday