It was another perfect winter's day in Zion, ideal conditions for one last hike. There are many fabulous hikes here, but there is one that is constantly talked about and feared. Angels Landing hike is a five mile return trail to the top of a narrow rock fin, with 1000 feet drop offs on both sides. The summit is right in the middle of the canyon and provides incredible views.
The kids had learnt about this hike from people we met in other parks, and had become intrigued by it. We had told them there was no way we would hike to the top, although I think they were hoping we would change our minds. With six accidental deaths since 2004 we weren't prepared to take the risk, especially with patches of ice on the trail.
However, most of the Angels Landing hike is not too dangerous, only the last half mile. So we embarked on the four mile trail to Scouts Lookout, the last "safe" area before the final ascent up the rock fin. Scouts Lookout is about seventy percent of the way to the top, an elevation gain of around 350 metres. Apart from being steep and having some long drop offs on one side, the trail was remarkably easy as it was paved all the way.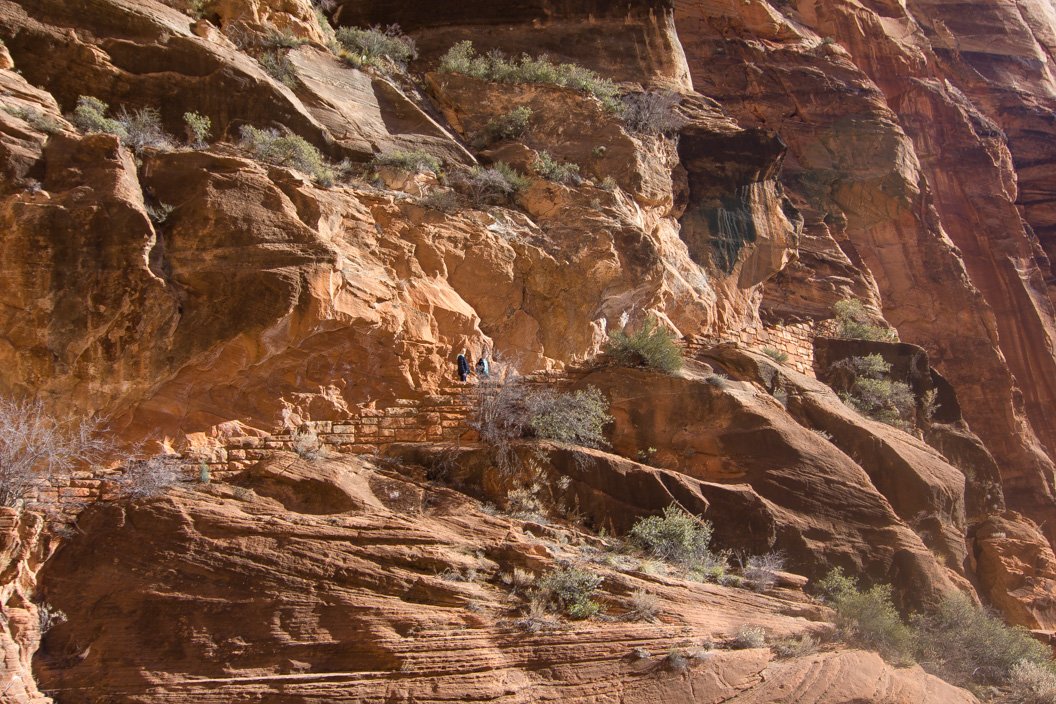 It took us up the side of the main canyon with fabulous views back down. We then walked through "Refrigerator Canyon", a narrow and shady flat canyon that took us away from the main Zion Canyon. The last part of the ascent to Scouts Lookout was up "Walters Wiggles". This is a famous part of the trail that involves 21 switchbacks that zig zag up the rock. I guess the view from Scouts Lookout was not quite as impressive as it would have been from the summit, but it was still pretty breathtaking.
We spent quite a while at Scouts Landing, admiring the view and chatting to people. It was quite a social place as a lot of people waited there while part of their group climbed the rock fin. We met a few people who has got part way up and turned back, and others who had survived the experience. The kids would have loved to keep going, but accepted our decision. Matt has already added it to his bucket list. I've told him not to tell me until after he's climbed it! We did let them go along the chain to the first tree, just so they could say they'd climbed part of the rock fin.
The hike down was pretty easy, with fantastic views all the way. We found a great picnic spot part way down and ate our lunch with a million dollar view. We had planned another short hike on the Weeping Rock trail, but it was on the shady side and totally covered in ice. Instead we explored some more of the valley and walked down to the Virgin River.
Tomorrow we fly to San Francisco, so our next task was to pack our life back into the four suitcases we came with – not something I enjoy doing. We rewarded ourselves with dinner at the pub next to our hotel and another nice soak in the hot tub. I just love that feeling of getting super-heated in the hot tub then walking back to our room in sub-zero temperatures. Our flight tomorrow is not until lunchtime, but we have nearly three hours to drive back to Las Vegas from here so it will be an early start.