We woke to a dreary cold Tokyo morning. I always feel better about leaving a place I have loved when the weather is bad, and 3 degrees with rain qualifies as bad in my books. Hotel Richmond in Mejiro had been a brilliant place to stay, with great transport links but very quiet and calm by Tokyo standards. It reminded us a bit of Richmond where we lived in London.
We were headed for Hiroshima, 900 kilometres south west of Tokyo. It was great to have a few hours on the Shinkansen to rest our legs and catch up with ourselves. Our rail passes exclude the really fast Nozomi and Mizuho trains, but the "slower" trains we caught still reached 300 km/hour. One of our suitcases is too large to fit in the overhead Shinkansen luggage storage. On previous trains I had sat with my suitcase at my seat. There is a fair bit of leg room so it wasn't too bad, but I decided to explore other options for this longer trip. After a quick hand gesture conversation with the train conductor, a new home for my suitcase out in the corridor was approved. The conductor knew which side passengers would board at each station and moved my case from side to side to get it out of the way. Each time he did this, he let us know with more hand gestures and a bow. First class service in the "ordinary" car!
It was just under 3 hours to Osaka where we changed to a second Shinkansen bound for Hiroshima. We arrived to much warmer temperatures and perfect sunshine, it's amazing what a difference 900 kilometres makes.
Hiroshima is a very different city to Tokyo. The streets are wide and uncrowded and people are dressed much more casually. The main public transport through the central city is street cars and it was about 15 minutes on a street car to our hotel. If we hadn't been surrounded by Japanese advertising and announcements we could have been in San Francisco as there were so many Europeans on the street car. We are staying very close to the Peace Park and main shopping district at the Crowne Plaza. It's strange to be back in Western hotel with no Tatami mats.  We could be anywhere in the world when inside our room, but it's very nice.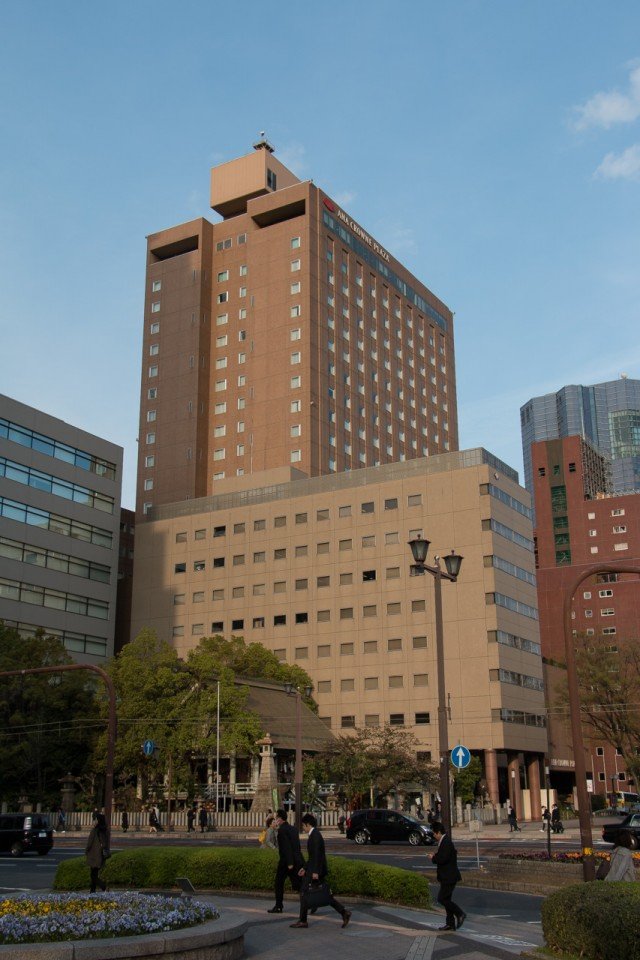 After half the day sitting on the train, we headed to the Peace Park for some fresh air and a round of ice creams. Peace Park was more compact than I expected so we covered most of it without too many steps.
Most of the time we sat at the Children's Peace Monument, where there are thousands of brightly coloured paper cranes in glass cases. A little girl called Sadako Sasaki developed leukemia 9 years after the bomb was dropped. She believed she would be cured if she could fold 1000 paper cranes. Sadly she died at 12 years of age before she completed her paper cranes. Now people from all over the world bring paper cranes as a symbol of peace. It was a pretty sobering experience sitting there remembering the estimated 260,000 people that died as a result of the bomb. While we were there a large school group assembled in front of the memorial. They sang, laid a wreath and brought paper cranes which were added to one of the glass cases. It really added to the atmosphere and made it all seem more real.
We detoured past the Peace Bell then headed back towards our hotel past the Flame of Peace which was first lit during the Tokyo Olympics in 1964. This is not intended to be an eternal flame – it will be extinguished the day the world is free of all nuclear weapons.
We found a great Japanese restaurant for dinner just around the corner. Most restaurants have plastic models of their food in the window, a huge help when there is no English menu. We had to order food from the vending machine then take the tickets to the waitress. Less than two minutes later our food arrived. Our chopsticks skills are definitely improving but mine were really challenged with this meal as I had fish with lots of tiny bones. It was delicious though and worth the effort involved.
The last stop for the day was a quick trip to Hondori Street, a long shopping street with a curved covered roof – a little like Freemont Street in Las Vegas, but minus the lights, noise and tackiness!