We woke to a perfect bluebird day in Edinburgh, so it was definitely a day for sightseeing. One of our favourites things to do in Edinburgh is climb Arthur's Seat, the highest peak of the hills just near Edinburgh city centre. It's not particularly high at 251m, but gives fantastic views of the historical city as well as the coastline. Normally it's a pretty easy climb, but there had been a harsh frost and everything was icy. Going up wasn't too bad as it was mostly in the sun, but coming down was a different story. The best bet was to avoid all paths and come down the grass. We all made it down in one piece and the climb was definitely worth it for the amazing views.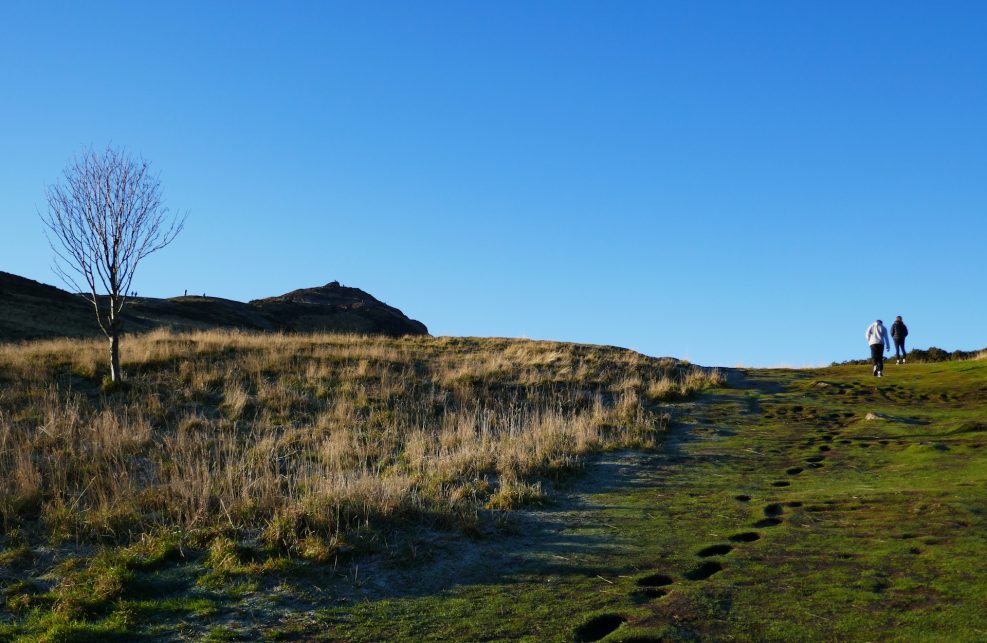 We'd gone down a different side of Arthur's Seat which took us to Hollyrood Palace. From there we had a nice touristy walk past the Scottish Parliament and up the Royal Mile. Half way up the Royal Mile we stopped at a gorgeous pub for lunch. It was classic British cuisine, steak and ale pies and fish and chips, and did not disappoint. It brought back so many great memories of our time living in the UK. We soon arrived at the castle, one of my favourite castles anywhere. It's just so impressive built on solid rock and the views of the city are amazing.
We weren't too worried about touring the castle again, but the kids were really keen. So they did the castle while Andy and I explored some of the gorgeous streets below and grabbed a few things for the kids to open on Christmas Day. I just love the way that Edinburgh is built on multiple levels, and it's so much fun finding all the lanes and steps that connect everything up. Somehow we got the kids in for half price, although I have no idea why. The guy that served us was a big fan of NZ and had just got his residency to move there. Maybe the half price deal was because we were kiwis, but we weren't going to question it! Admission prices on the UK are pretty steep so it a bonus to get a bargain.
We met up with the kids down at the Christmas Markets, and topped up our energy with some sugar – hot chocolates and waffles for Matt. With all the walking and the chilly weather, regular eating keeps you going – and there are so many yummy treats on offer!