The hard beds were strangely comfortable and we slept like logs in this remarkably quiet hotel. There was no cooked Villa breakfast for us this morning, we had to fend for ourselves. Fortunately there is a delicious bakery across the road, so we stocked up there and added a few goodies from the nearby supermarket. It was a pretty decent feed and fuelled us for a morning in Tokyo.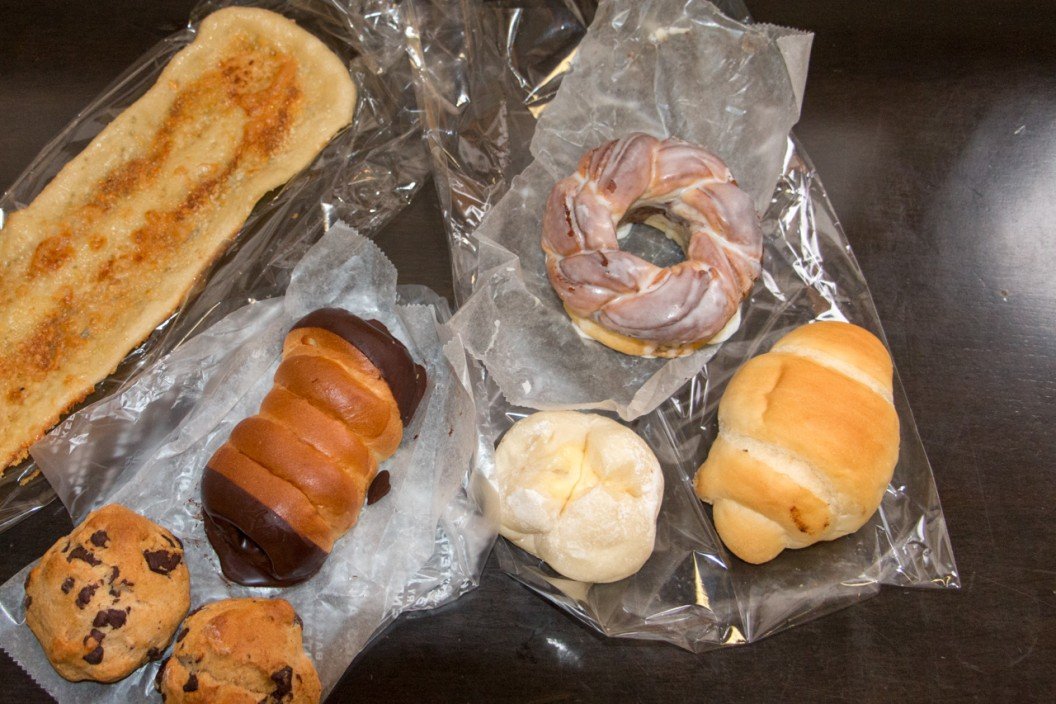 The weather forecast wasn't too flash for today, so it seemed like a good day to hit the shops. First stop was Akihabara, home of technology, gadgets and all things geeky. What a surprise that this area was near the top of our must-see list! The stores ranged from tiny single shops to the mammoth 9 storey Yodobashi complex. We checked out a number of stores and came away with a few minor purchases, but most of the fun was just being part of the madness all around us. Akihabara is also the centre of anime and manga in Tokyo, so the kids were keen to visit the Tokyo Anime Centre. The building was cool, but the centre was a real letdown – there was far more anime action in the streets.
Anna was desperate to hit the normal shops as well, so the boys went back to the hotel for a rest and the girls headed for Ikebukuro. Ikebukuro is very close to our hotel and has two enormous department stores – Seibu (the largest in Japan) and Tobu (close behind!). These rival stores own separate railway lines which terminate at Ikebukuro – quite a clever strategy! I'm not a fan of crowds in shops and avoid Sylvia Park on the weekend, so this was complete madness. As the afternoon wore on it got busier and busier, but we just went with the flow. We only managed three shops (Uniqlo, American Eagle and a shoe store) but Anna managed to collect quite a few extra items to squeeze in her suitcase.
The only thing we weren't looking forward to about Japan was its reputation for smokers. We all hate the smell of cigarette smoke and had heard that huge numbers of people smoked, so had prepared the kids for this. We can only assume that things have changed vastly in recent years. Smoking is banned on the streets and smokers are confined to glass boxes both inside buildings and outside. Compared to to the number of people in Tokyo, there are very few people using these boxes. And like all rules in Japan, people conform to the smoking rules.
Dinner today was an eat-in feast in our room. We have a Peacocks supermarket five minutes away which stocks a great range of pre-prepared food. It was nice to have a relaxed dinner of yummy Japanese food, washed down with some nice French wine to celebrate our 23rd wedding anniversary. This also gave us a chance to recharge the batteries before our evening sightseeing.
For a week or so around peak cherry blossom time, there are various illuminations and night festivals around the city. We headed to Ueno Park, renowned for being one of the most rowdy Hanami party locations. The main avenue of cherry trees is lit with red lanterns and under the trees there are tables set up for Hanami parties. There was lots of laughing and some dancing, but everyone was really well behaved. The kids kept commenting on how different it would be in NZ…
In another part of the park, there was a path through a lake, and this was lined with food stalls. The smells were delicious and we all wished we hadn't already eaten. We did manage to find room for a chocolate covered waffle each! The whole park had a wonderful atmosphere and was a huge hit with the kids. They are begging to go back for dinner tomorrow.
We are loving our time in Tokyo and are so glad we have a few more days. The hardest thing is choosing what to do, there are just so many options.