We're slowly adjusting to the time change, managed to sleep until 5:30am this morning. After another great Villa breakfast (banana pancakes today!) we headed up the mountain again. We had a couple of quick runs down the bottom where we skied last night (hugely improved after a visit from the night groomers), then headed up the long gondola. We explored some runs that we had missed yesterday between the top of the gondola and mid-station and they were superb. Very quiet runs winding through the trees with great quality snow – a new favourite.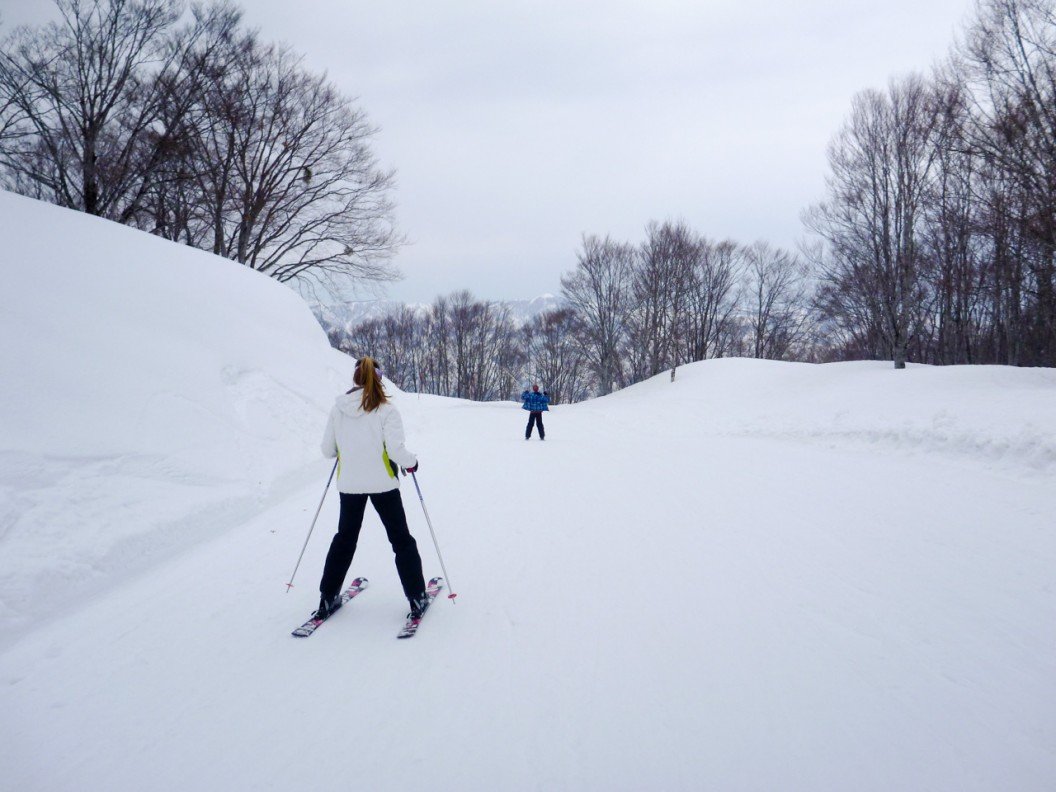 We had a family lesson booked for the afternoon so needed an early lunch. The kids were begging for a return to Restaurant Buna for another round of Tonkatsu. On the way to Buna we saw a huge crowd of people on the snow so Anna and I checked it out. The attraction was Naski (the Nozawa ski mascot, which we have now figured is a vegetable called Nozawana!) and free miso soup. We gave the miso soup a miss, but Anna couldn't resist a photo with Naski. She's never grown out of her love of characters, and this one was the friendliest she's ever met!
It was good going to lunch early as we lucked in with a table at the window and enjoyed the million dollar views. Our lesson meeting point was at the bottom, so it was down the long windy road again (only green way down and kids not brave enough to hit the red trails just yet!). There was a bit of time to spare which got filled in with a relax in a deck chair and a soft serve.


English speaking instructors are not that common here, but the Villa had organised a lesson for us with Jerry, a guy from the Czech Republic who spoke perfect English. He took us up a short run to see how we skied, and decided that we were ready for the very top of the mountain. We had skied near the top, but avoided the top chairlifts as they only had red runs. This ski field is unusual as it goes right to the summit of Mt Kenashi. It's not particularly high at 1650 metres, but it gives 360 degree views of Japan. On a clear day you can see out to the Sea of Japan. The clouds had rolled in today so views were limited, but there are some great days forecast so we'll be back with the camera.
The lesson was a huge help. Jerry concentrated on parallel turns for the kids and gave us some pointers along the way. We all made good progress and the kids are now comfortable on the red runs. Japan only has three levels of runs, so some of the red ones can be quite challenging with black level parts to them. With red runs on our list now, there's a whole lot more terrain to be explored over the next few days. The other bonus of going to the top was some falling snow. Not a lot, but enough to finally count for the kids.
The kids were pretty worn out so were happy with a mac'n'cheese dinner at the Villa. We went for a quick dinner at Restaurant Tonkichi across the road. A very authentic experience with only low tables (a bit of a challenge for the sore legs!) and all Japanese food. We got to try pickled Nozawana (very salty), Okonomiyaki (Japanese cabbage pancakes – ok), Yakitori (Andy said nice but didn't know what he was eating. I was too scared to try in case they were seafood) and Gyudon (yummy beef and rice). We had a laugh at the sign outside, can't imagine seeing this in NZ!
They are promising more snow for the top of the mountain tonight and a bluebird day tomorrow, so should be a goodie if the legs can handle it!