Sunday was our last full day in Europe. We need to be up early tomorrow to return Pierre and catch the 9:30 shuttle bus to Frankfurt Airport. We had a practice run today for early rising, thanks to the bells of the nearby tower on the walls. They ring every 15 minutes, day and night! We didn't realise our bedroom window was open which made the bells even louder. Rothenburg was also in major party mode last night as Germany beat Portugal in their UEFA match. So Rothenburg won most luxurious bed of the trip and worst sleep of the trip, both in the same night!
We had a relaxing morning and started the dreaded task of packing our life back into four suitcases and four day packs. It is amazing how much stuff you accumulate when you have four wheels to travel in. Late morning we walked to the centre of town in search of a Rothenburg speciality called Schneeballen (snowball). These are balls made with shreds of pastry rolled into a ball, deep fried and coated in various goodies. We tried two types – original cinnamon & sugar and chocolate. We had read that you could end up with a real mess if you tried to bite into them, and that it was better to smash them inside the bag and then eat the bits. The strategy worked and we shared the two flavours. They tasted a bit like donuts, nice but not spectacular.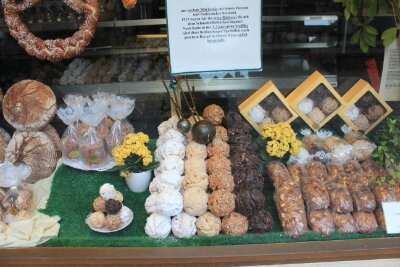 Our next stop was back to the Christmas market. We have a tradition in our house that the kids choose a decoration each Christmas. They selected their 2012 decoration early this year, although they did find it hard to choose from the huge selection. I bought a few Christmas bits too – I enjoy souvenirs that you can use on a regular basis. We had lunch at an outside cafe. We thought we were ordering sausage in bread but it turned out to be sort of ham on bread instead!
After our lunch it was back to our house to complete the packing and get the kids clean. Our kids are never particularly keen on showers, but the bathroom here had them more motivated than usual. The shower had a normal shower rose, but when you pressed a button the water rained down from the roof. They enjoyed an extra long shower and we enjoyed not having to pay the power bill.
Late afternoon we headed out for a last explore of the city. The kids were keen to go back to the Spitalhof area with the big fortifications to explore. The camera got another good workout and our legs got some exercise (and of course some more steps). It was a beautiful evening so we found a restaurant outside on the main square for dinner. A last round of Wiener Schnitzel mit Pommes for the kids, and steak for us. It was a great finale sitting watching the world go by from our dinner table.
We were all feeling quite sad yesterday about the holiday ending, but today we were more in reminiscing mode. Over dinner we came up with lots of awards for the Creahan European Adventure (2012). A few of the winners were:
Best Schnitzel: Lähn, Austria
Best beach: Lerici's three small coves
Best ice cream shop: Berthillon, Paris
Best ice cream country: Italy
Best pizza: La Cantina, St Remy (France!)
Best bread roll: Legoland Feriendorf
Best castle: Edinburgh
Best walk: Cinque Terre, Italy
Best city: London
Best accommodation: Rothenburg ob der Tauber
Best chips: Bruges
Best town: Lerici
We couldn't leave Europe without one last ice cream, so we tracked down a nice ice cream cafe to wash down the dinner. We are all sad to be leaving Europe tomorrow, but there are no regrets. We feel we have made the most of our time here and have enjoyed a wonderful variety of European experiences. And of course, we are already dreaming about where we could go next.