Every morning we get a yummy breakfast and a weather update from Gab (a Swiss ski champion who manages the Villa along with his Japanese wife Kyoko). This morning Gab brought the news that everyone wanted to hear – 5cm of fresh snow overnight. A pathetic amount by Japanese standards, but we were grateful for it anyway.
We were up at first lifts, ready for our 6th consecutive day on the slopes. It was lovely to see the trees near the top covered in the new snow. We started our day on the long Uenotaira snow park run again. It's such a favourite and a great place to ski until the snow gets slushy. It was great fun being the first to make tracks in the new powder (apart from the animal tracks – not quite sure what type of animal they were from!). Later in the morning we headed to the summit of Mt Kenashi and were rewarded with great views all the way to the Sea of Japan. After lunch we went back to the super-scenic trail between top and middle gondola station. Some of it is a bit flat with some poling required, but it's hands down the prettiest part of this mountain. On one of the runs we stopped for a while to play in the powder in the trees. It was really warm again, so no problem to be right in the snow for quite a long time.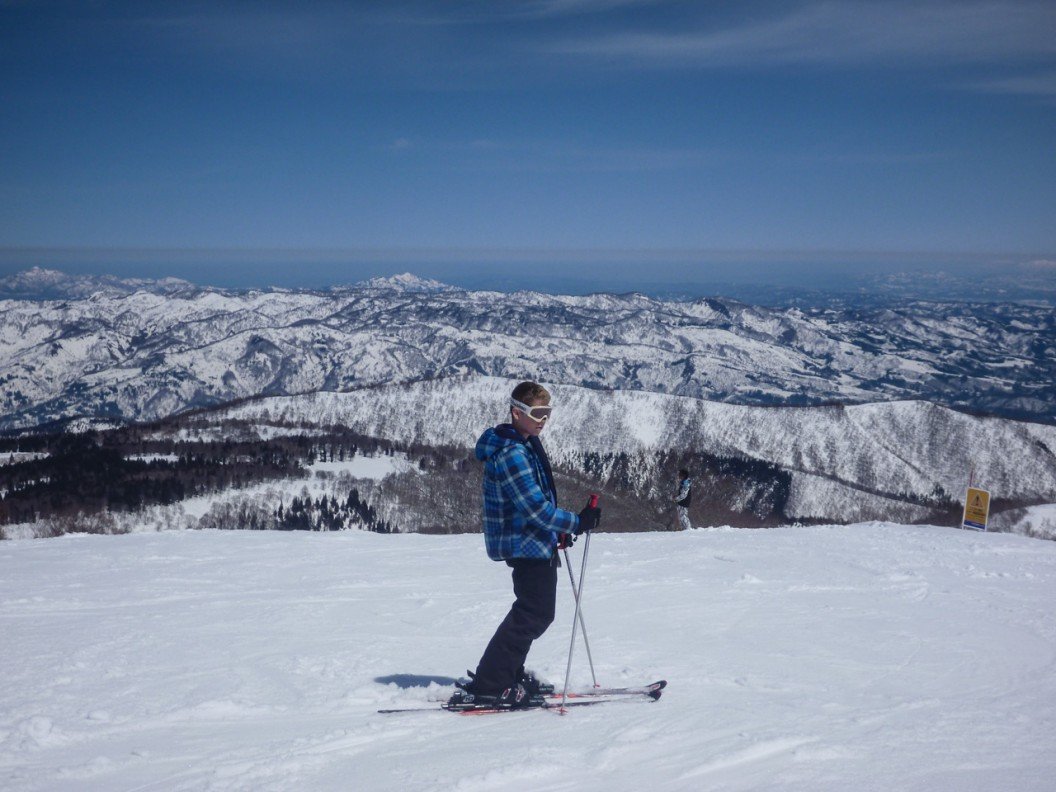 The older legs reached their limit about 3pm. It's got to the stage where the kids can now out-ski their parents! It was slightly sad going down the gondola for the last time, but what a brilliant week we've had.
Andy has visited the onsen a few times this week, and I was determined not to miss the unique experience. Anna decided she would regret missing the experience as well, so we wandered down to the Nakao No-yu onsen just below our hotel. We were so busy trying to work out what to do as we walked in, that we completely forgot to take our shoes off! The local ladies made sure we got the message loud and clear, but they were still very welcoming. We thought 4pm might be a quiet time, but we were very wrong. The most important rule of the onsen is that you wash before you get in, and most of the time is spent washing beside the pool rather than sitting in it. The water is so hot (my guess around 45 degrees for this one, some are hotter!) that people hop in and out quickly. The local ladies showed us how to mix cold to make it bearable, but poor Anna still couldn't get in. One of the locals mixed some hot and cold and poured it down her back a few times. I got used to the very hot water and had quite a few dips. It certainly made the sore legs feel amazing. We were so glad we had gone, it was a very Japanese experience.
We left for dinner a bit early and headed back to the cooking onsen in the hope we would see some cooking this time. It was worth the walk as the villagers were brewing up big mounds of something green in the boiling pools. Once it was cooked it got transferred to another pool to cool off. One of the villagers came across to us and gave us a handful of what they were cooking. We recognised it as fresh nozawana, the vegetable that is often served pickled before a meal. We aren't fans of the pickled version (super salty) but the fresh version was really good – think cross between asparagus and spinach. In a country where you are served copious amounts of cabbage and not a lot of other vegetables, a handful of freshly cooked nozawana was a welcome treat. We didn't want to eat too much so were left trying to figure out what to do with the rest. There are extremely strict rules about rubbish in Japan and public rubbish bins appear to be non-existent. We had lots of laughs trying to come up with a plan for the leftover Nozawana, but we didn't want to cause offence so it spent the rest of the evening in my jacket pocket!
It was back to Kaze No Ie for our last dinner in Nozawa. Italian food is common here with at least 4 restaurants in this village serving pizzas and pastas. We thought about pasta, but the pizzas were so good we couldn't resist. Add some bruschetta and a carafe of surprisingly good red wine, and it was another delicious cheap meal.
We are very excited about heading back to Tokyo tomorrow. I suspect it will be more of a culture shock than Nozawa as this place is very quiet and relaxed. Nozawa has been the perfect ski town for us – great skiing but also a very traditional Japanese experience.