The kids were really keen to hit the slopes today. Matt was still not eating much and was really low on energy, but he wanted to give it a try anyway. Staying opposite the gondola makes it very easy to come back any time. My plan was to do two ski days, so I joined the kids for the first of my two days.
Like most Europeans resorts, gondolas and cable cars are more common than chair lifts. It's a really warm and comfortable way to travel up the mountain. We spent the morning getting our ski legs back on the easier trails in the middle of the mountain. Most of this mountain is covered in trees, and the easier forest trails are incredibly scenic. It also has beautiful views down to the lake. The weather wasn't great today with light snow, but the visibility was still pretty decent. It wasn't particularly cold though and was certainly more pleasant than a bad day at Mt Ruapehu!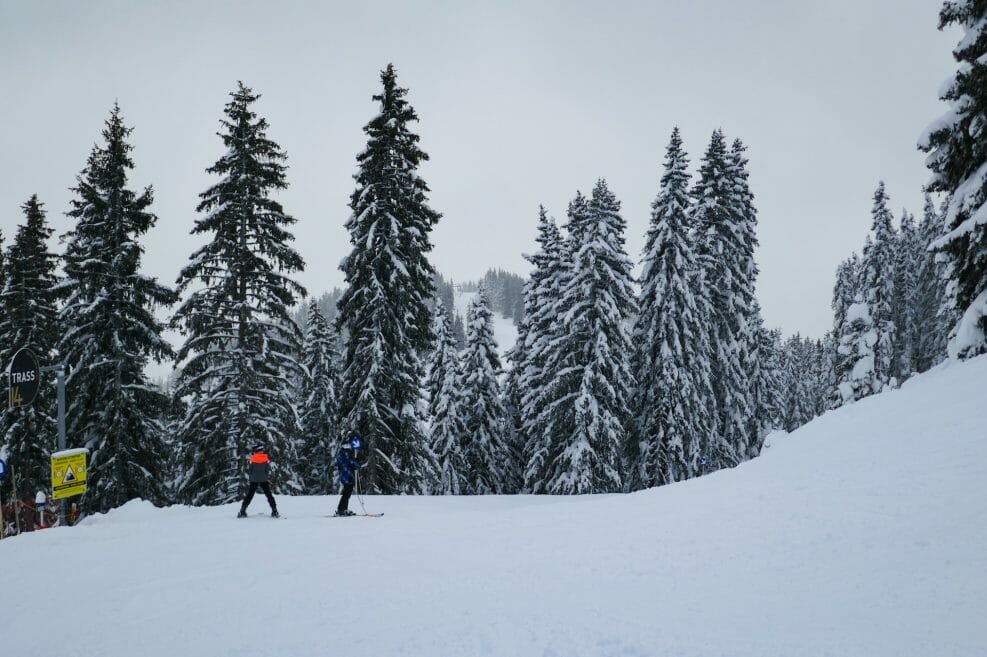 Austrian ski resorts can suffer from low-snow years, but this season is not one of them. A lot of resorts have had more than three metres of snowfall already this year. Zell am See hasn't had quite that much, but it's still a winter wonderland. There has been a lot of media coverage of the recent deaths from avalanches in Austria, but we feel very safe here. Skiing off piste is strictly forbidden with the avalanche risk so high, but the main runs are well groomed and perfectly fine to ski. The signage is also really good which makes it very difficult to get lost!
Matt and I headed back to the apartment for some chill out time and lunch, while Anna stayed up the mountain. The three of us met up again later in the afternoon, with the intention of going to the top of the mountain. Sometimes trails that look a good idea on the map don't turn out well, and this was one of those times. A blue trail that led where we wanted to go was a beautifully scenic forest trail. Unfortunately it was also long and flat, and at times even uphill. It completely drained Matt's limited energy so he bailed and headed back down. Anna and I finally made it to the right place, and rode the "Schmittenhohebahn". This cable car took us to the highest peak in about ten minutes.
The views at the top were pretty spectacular, even on an average day. The après-ski was well underway at the bar up there, with lots of yodelling – very very Austrian! We'd caught the last cable car up and the light was going, so there was just enough time to ski back down to the bottom before it got dark. It was a very quiet evening for all of us, with home made hamburgers for dinner.