Ljubljana is a delightful small city, but it doesn't have any must-see attractions. It works well as a base though as there are some great places to visit nearby. Slovenia has some of the best caves in the world, the two most famous being Postojna and Skopje. They are very different, so it was hard to choose. In the end we chose Postojna as it was easier to get to and also nearby a pretty unique castle.
Public transport in Slovenia is not quite like Western European countries. Even though Postojna is only about half an hour from Ljubljana by road, getting there on public transport was really tricky and slow. The easiest option was to book a tour, something we wouldn't normally do. We ended up with only five people on our tour, us and a girl from Reno, so it was almost like a private tour.
After a quick drive back the way we came yesterday, we were at Postojna Caves. There wasn't much to see enroute as it was really foggy. Postojna is the most visited cave in the world, and you could see it was set up for the masses. Fortunately in low season it was very quiet. The Postojna caves are 24km long and accessed by a ten minute train ride. There were repeated warnings not to stand up on the open air train, with really low clearance above. We thought the train ride was through pretty impressive caves, but it was nothing compared with what was coming up.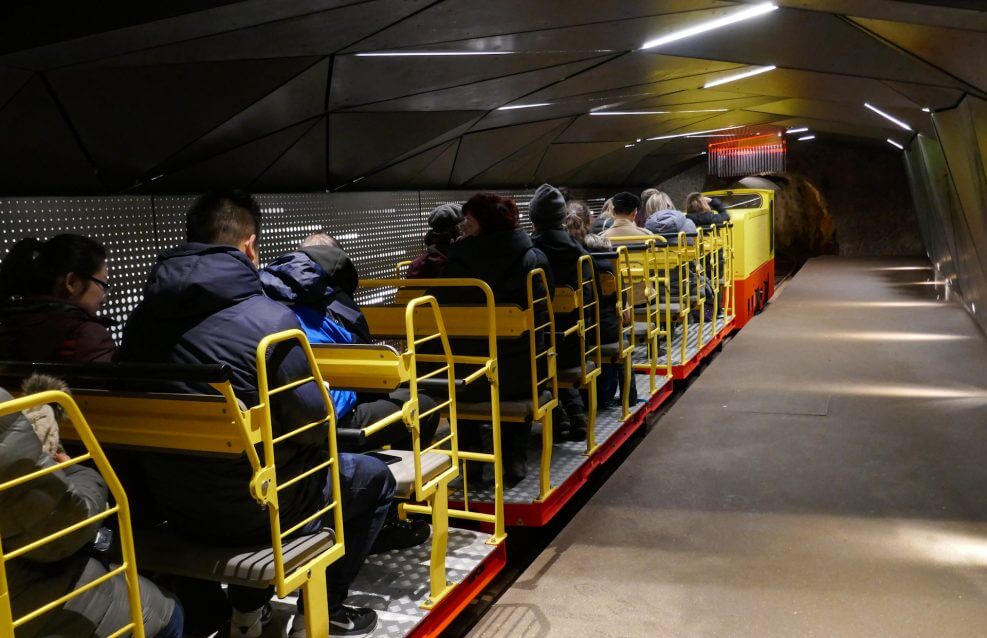 We were taken on a one hour guided tour through a section of the cave. With the freezing temperatures outside, it felt like the caves were heated as they are a constant 9 degrees all year round. The caves are limestone, so a bit like Waitomo except for the size. It was impossible to capture just how enormous and beautiful these caves were. We were so glad we had visited Postojna and Skopje Caves will have to wait for another trip.
We were hoping the fog had cleared for seeing the castle, but we were out of luck. It did lift slightly as the castle was higher up, but was still very misty. Predjama Castle is a pretty weird castle, a cross between a castle and a cave dwelling. It was originally built inside a cave, with the castle facade only being added when the castle was extended. The castle was so damp and cold, that it was only ever habitable for a couple of months in the summer. The tour was really interesting, although some of the stories from medieval times were pretty dark. It was probably the coldest we have felt on this trip, with the dampness and fog hanging around. The fog did sort of add to the eerie atmosphere of the place though.
We were back in Ljubljana before 2pm and grabbed a late lunch at a Wok place. Then it was time for a spot of shopping. Up until now Matt has had the smallest and lightest suitcase. He added some bulk and a few kilos with his purchase of ski boots, which were a fraction of the price you would pay in NZ. Anna and I got bargain ski jackets to keep us warm in Austria. It was so much fun shopping in a country where everything was so different, such a nice change from the same brands that pop up in most countries.
Unfortunately Matt came down with a gastro bug later in the afternoon. When you travel for 7 weeks it's not really a surprise to catch something, but not great timing with a ski week just around the corner. Thankfully our apartment is spacious and well equipped, which did make things a little easier. Anna and I got some dinner supplies from the nearby supermarket and we had a quiet night for a change.