When I think of cycling in Europe, Amsterdam always comes to mind first. But I think Copenhagen may well have more bikes. There are more bikes than people in this city, and it's set up with an amazing network of dedicated cycle lanes with their own traffic lights. The cold doesn't seem to be an issue, people are on bikes day and night. Hardly anyone wears helmets, just the warmest hat you can find. There was no way we were leaving Copenhagen without joining in the fun.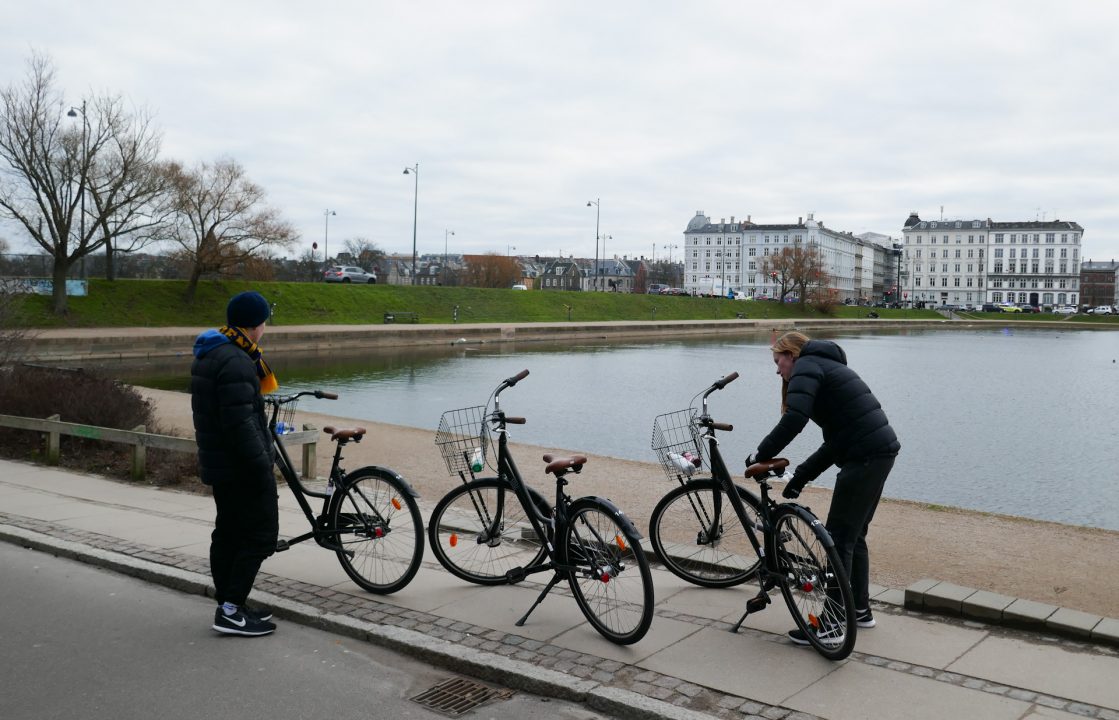 We planned a cycle route over breakfast and put more clothes on than ever before for biking. There are bike rental places everywhere, but we only had to go downstairs as our hostel had hundreds of bikes for hire. Our first ride was along the canal towards Kastellet, a military fortress build on a pentagon shaped island. The northerly head-wind made it harder going, but not too bad as it was very flat. The island was a no-bike zone so we parked them up and explored on foot.
Next stop was Hans Christian Anderson's "Little Mermaid". As expected it was pretty underwhelming with a bit of an industrial backdrop, but it had to be done.
We then biked back to Bryggen, to warm up with hot chocolate. The Northern European countries all seem to have a word to describe a mood of coziness and contentment. In Danish, that word is "hygge", and we were getting the hygge vibe sitting outside under blankets drinking hot chocolate.
The last part of our ride took us through the central city passing palaces and castles. Biking is always fun, but it's way more fun when you get to bike through such a beautiful and historic city. After returning the bikes, we walked to the Main Street (Storget) in search of some lunch. It wasn't the easiest area to find food in, but we ended up at Ricemarket for a good feed of Asian food.
There are Christmas Markets everywhere in Copenhagen and we found more around Storget, along with a Lego store with some pretty impressive Lego models.
We are staying really close to the Tivoli Gardens and that was our last planned stop of the day. There's a food market next to it so that was our dinner destination. It was a bit like a mini version of Grand Central Markets in LA. At Christmas time, Tivoli gets transformed into a Winter Wonderland. The rides were really expensive and it was really cold, so we flagged the rides and just enjoyed the Christmas vibe.
We couldn't leave Denmark without eating some sort of waffle, but couldn't find any at Tivoli. So we walked back to Storget to get some at the Christmas Markets, but sadly they had closed. Fortunately we found a waffle/churros shop just nearby. We ended up with churros as they were a bargain (by Danish standards anyway!) and Anna was able to eat them as the hot churros stopped the chocolate from setting in the sub-zero air. It was a yummy end to another great day.