Instead of hitting the museums and shops with the girls, Matt and I headed off to the Harry Potter Studio Tour. Beginning the day with a tube ride across London at rush hour (no need for Matt to hold on in the tube when you're completely surrounded by people in suits on their way to work 🙂 ), then a quick train ride up to Watford, we boarded the bus for the Harry Potter Tour.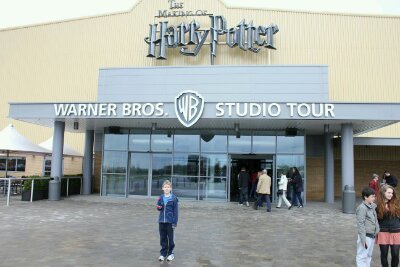 Warner Bros have done a great job on the tour, which only opened a few weeks ago, and we both had a great time exploring the behind the scenes stuff from the 8 Harry Potter movies. I did feel a bit under dressed though, surrounded by most of the visitors dressed up in Harry Potter costumes – not the time to admit I'd only seen two of the movies and read none of the books. Thankfully though Matt has read all the books and did a great job as my personal Harry Potter guide.
On the return journey, we called into Kings Cross to pay a visit to Platform 9 3/4.