This morning we wanted to have an unrushed explore around the Forum and Palatine Hill. These ruins cover a huge area next to the Colosseum. The Forum was the social, economic and religious centre of Ancient Rome, and some of the buildings are remarkably intact. We hadn't visited these sites on our last trip to Rome, so we were really keen to have a look around. Rome public transport is more limited than other cities and the main sites are in a pretty compact area, so we just walked back down the the Colosseum. Crossing the roads here does take some getting used to. Very few crossings have green men signals and cars will never stop until you step out. So you just have to look at the driver, step out and hope they avoid you or stop. It's a bit disconcerting at first, but you soon get used to it and it seems to work – we didn't see anyone get run over the whole time we were in Rome.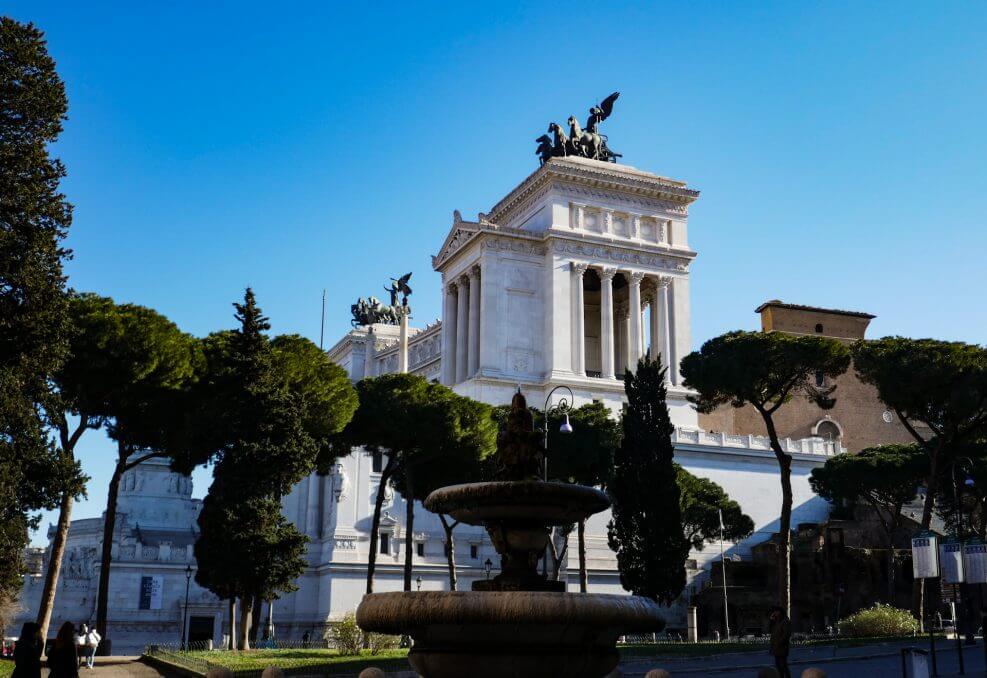 The area around the Colosseum was much calmer than yesterday as it was earlier, and we headed straight to Palatine Hill. This hill looks over the Forum, and was the site of palaces and villas in Ancient Rome. We were quite surprised how large it was, and also how much greenery was up there. As well as homes of important people, there were beautiful gardens and even a vineyard. It was a remarkably tranquil place in the middle of Rome and surprisingly uncrowded.
By the time we made our way down into the Forum it was getting a lot busier, but it was still not too bad as the site was large. There were plenty of information boards so we were fine without a guide and all enjoyed exploring at our own pace. It was a beautifully sunny day but still pretty cold, so perfect conditions for wandering around. It was amazing to walk around a place with so much history.
We wanted to have lunch in Piazza Navona and check out the Rome Christmas Markets. Again it was easier to walk, and fun wandering down all the narrow streets. We sat outside with a patio heater eating more yummy pizza and people and police watching. There are several types of law enforcement officers here, and they are everywhere. The Polizia seem to be state policemen and they get to drive Fiat Pandas or Puntos. Then there's the Caribinieri, who are Federal Police. They get to drive Alfa Romeos. And then there's the army with their jeeps. They all have some serious looking weapons, but look pretty relaxed. I have no doubt they would spring into action if required, but fortunately we never saw any action.
Andy stayed at Piazza Navona to enjoy a coffee and the rest of us headed to Castel Sant'Angelo down by the River Tiber. Anna left soon after to meet up with her Italian friend from Pak College days. Matt and I didn't realise how close we were to the Vatican until we saw St Peters right there. We decided to test our sense of direction and walk back to the apartment without looking at the map. It's amazing how quickly you get to know a city and we had no trouble getting back.
Later in the afternoon we walked down to the Il Vittiriano, the huge white war monument on the way to the Colosseum. Getting there was a challenge as we took the route down Via del Corso, the main shopping street. Anna's friend had told her that there was some big sale event on, a bit like our Boxing Day sales. The footpaths are narrow and there were people everywhere, so it took a while to get down the street. We took the panoramic lift to the top of the monument for fabulous views of Rome at sunset.
Our apartment has a full kitchen so it was time for a change from eating out. The local Co-op had a great selection of food so we had a lovely dinner of all sorts of Italian goodies. After dinner Anna and I checked out the shops. Not much was purchased but it was great fun. I've never seen so many immaculately dressed people and designer dogs in one small space, along with street performers to keep us entertained.